AUTO ACCIDENT RECOVERY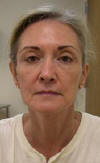 On 2/26/04, while driving to work, I was broadsided on my side by another driver running a stop sign. I almost lost my life due to many serious injuries and was hospitalized until 3/30/04, when I came home to a hospital bed in my living room. Through therapy, I progressed from the bed to a wheelchair, to a walker, to crutches, to a cane, to eventually walking on my own. I have so far undergone eight surgeries resulting from the accident.
All of this happened while my husband and I were living in Michigan. We moved to Wisconsin in July 2005. It was very stressful and worrisome leaving my doctors and therapists behind and it took me several months to find new ones. My new family physician, a fine doctor and enlightened man, referred me to David Milbradt of Abundance Acupuncture. My first treatment was on 9/23/05.
Last September, David and I began a journey together and we are still traveling. Aside from chronic pain, I had many other health issues resulting from the accident: I was weak, had no energy, was very underweight, had no appetite, had severe headaches and was taking at least eight prescription medications. I could barely go out the door and walk down the block. There was also the mental side of all this illness and pain: sadness, melancholy, short term memory loss, confusion and frustration. As we proceeded with treatment, David has addressed all these issues with extreme professionalism and expertise, amazing skill, great kindness and empathy. He is treating my body as a whole, including nutritional counseling, recommending needed supplements, and informing me of the good choices I can make to recover and sustain my health.
Over the months, David has enabled me to make great strides toward wellness. We have not had any overnight miracles and I did not expect any. Instead, my path has been one of gradual relief, hard work, consistency and staying with the program. I now take one medication on a daily basis, have gained weight, have an appetite, am able to do moderate exercise and can take 30 minute walks! I continue to have pain, but it is less severe and much more manageable. I have more energy, am more optimistic, and have begun to feel like a real person again, not an invalid. We continue to work.
Thank you David.
I also want to thank Margo and Shari for their wonderful kindness, caring, and genuine interest in me, and for pulling those needles out! Also thanks to Joel, new to the practice, who has also been very kind.
Sandra S. 5/7/06